Customer Reviews
Write a Review
Ask a Question
Purchased for my wife. She says "most comfortable mattress I have ever slept on".
03/29/2021
Kathia S.
Miami Beach, Florida, United States
Espectacula
Súper buena la decisión de comprarla 100%
This bed is amazing. I bought the Ultimate bundle plus the gray bed frame. Due to my horrid back issues I haven't been able to sleep in a bed in years but rather a recliner. Until this bed that is!!! I'm sleeping through the night, my husband's sleep apnea is at bay. We're able to sleep at different heights and sleep well.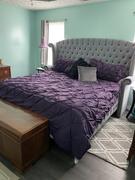 It is rare one finds high-quality products (split-king adjustable bed), great customer service both in prompt delivery and responsive phone calls from one source - all 5 STAR! We have had an expensive queen adjustable bed since 2007, but this is of equal or higher quality than the Kingsdown bed and mattress. It was hard to decide which mattress to buy, the 10", 12" or 14", so we called them and they listened and made a recommendation - the 12". They were right on with their recommendation. It is a perfect balance between firmness/softness and support. The Kingsdown adjustable base was working fine for us but we (age 84 and 82) needed to get a split king in that we both have Barrett's of the esophagus and at times one or the other needs the head elevated. After several weeks it is clear we made the correct decision. Don't look any further if you want a great quality bed at a reasonable price with great customer service! Thank you for being there for us!