Mattresses
Made in the USA from premium materials with your comfort in mind.
Not Sure? Try One of Our Quizzes
If you need direction in finding your ideal sleep setup, our quizzes are a great place to start.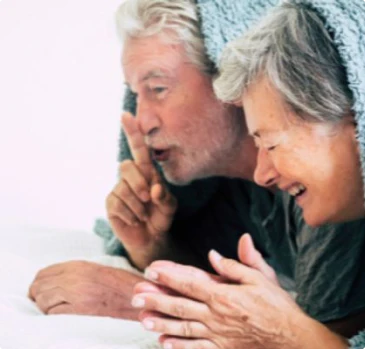 Which Adjustable Bed Base Fits You?
Which of our 5 bases best fits your needs?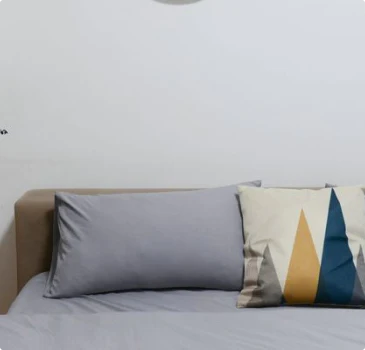 Which mattress is best for you?
What's your ideal mattress comfort and size?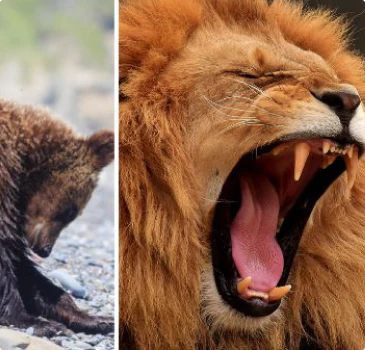 What is your sleep chronotype?
Are you a bear, lion, wolf, or dolphin?
120 night comfort guarantee
to sleep on your Mattress
Love it or exchange it for a better fit.
What Customers Are Saying
Don't just take our word for it...
"Everything about this purchase was amazing! I shopped around to get a competitive price but not sacrifice quality which I didn't. This bed is simply wonderful. Tim in customer service reassured me through out. The delivery was great. Highly highly recommend."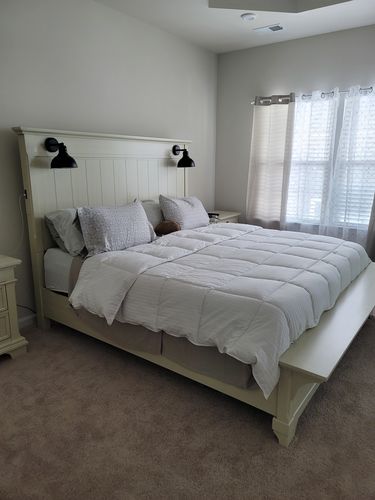 Darlene D.

Verified buyer
"Exceeding our expectations and a phenomenal value.
I recommend a stout helper for setup. Definitely a two person job or opt for the white glove setup. The frame is very well built and therefore heavy. Highly recommend!"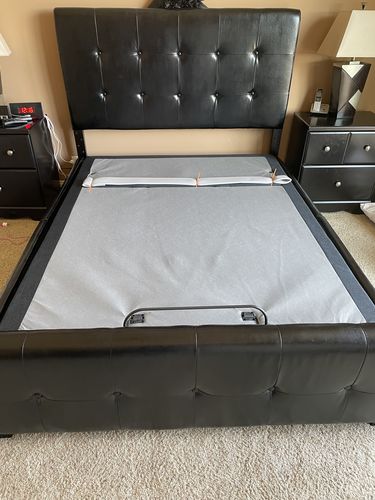 Brian T.

Verified buyer
"Amazing customer service! Delivery and setup was a breeze. Thanks to this bed my GERD is under control and the bed is so comfortable, why did I wait so long! Highly recommended."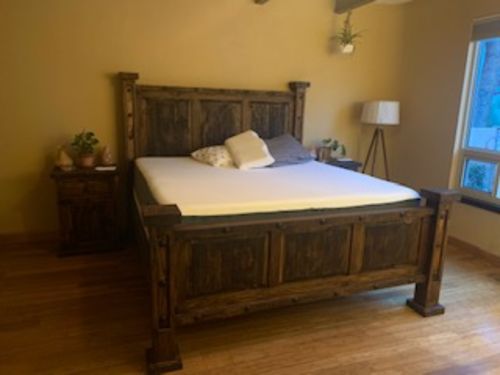 Nichols M.

Verified buyer
"Awesome Bed! In hindsight I definitely would have done the white glove! One of beds came in a heavily damaged box but has no damage to the bed. Plus too heavy for us to get it in the house. Needed help! Took awhile to set it up, needed 4 9volt batteries not included. All in all I love it! Would definitely recommend this product over all others!"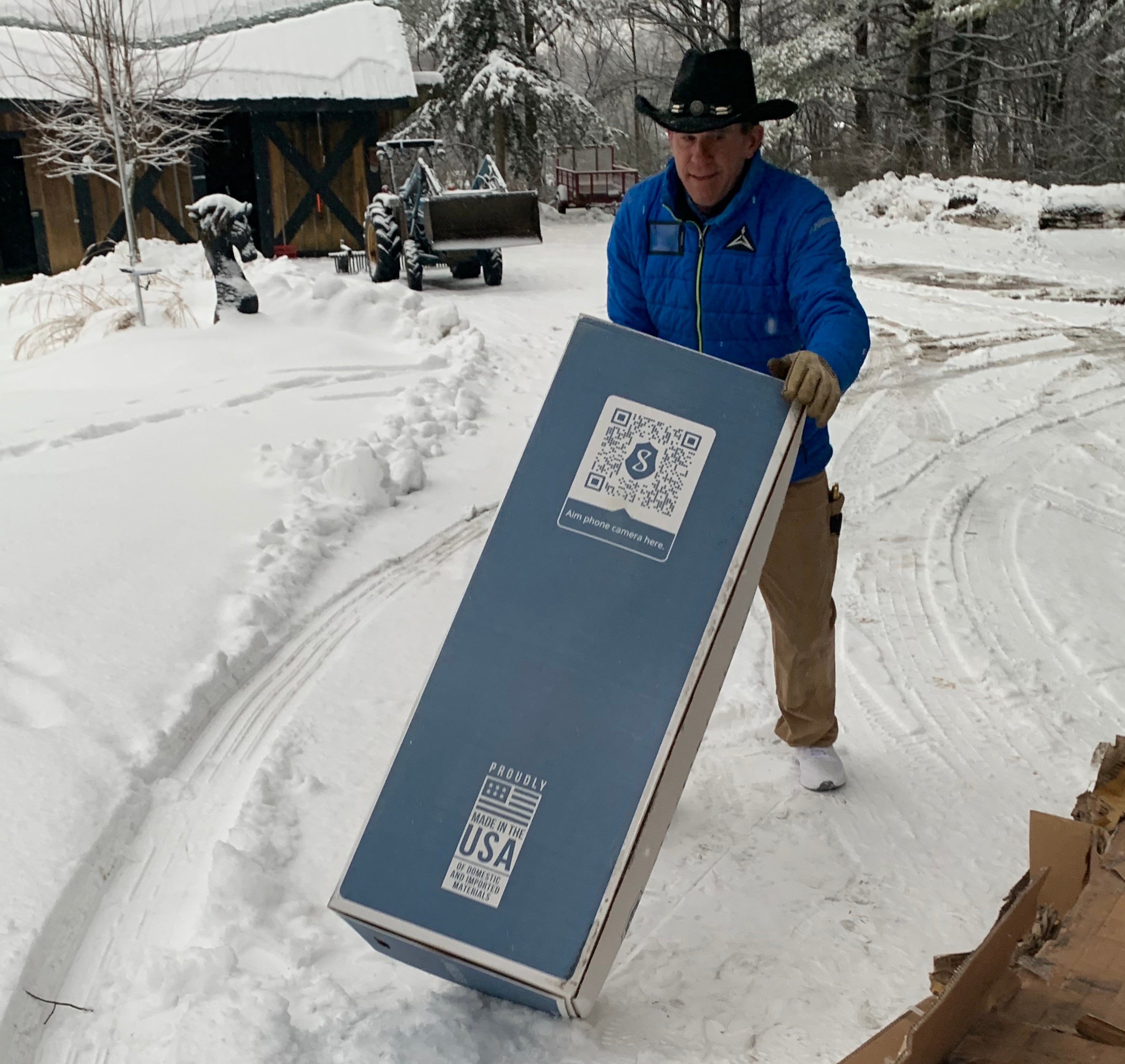 Lynn B.

Verified buyer
"Love my bed. Wish I had got it sooner."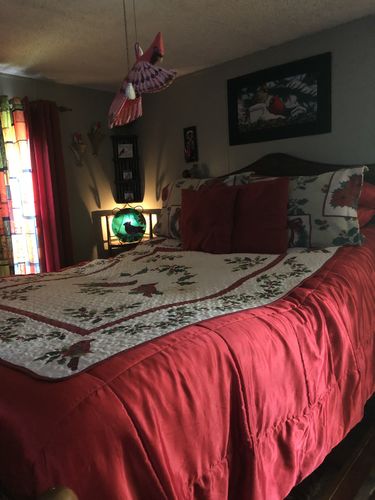 Christine W.

Verified buyer
"Love the bed. Don't wake up with aches and pains anymore. Have recommended it to several others."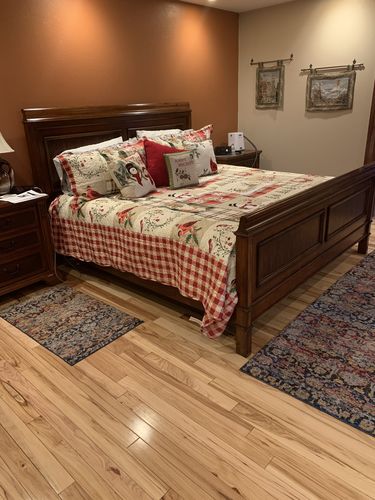 Linda J.

Verified buyer
"This bed is amazing. I bought the Ultimate bundle plus the gray bed frame. Due to my horrid back issues I haven't been able to sleep in a bed in years but rather a recliner. Until this bed that is!!! I'm sleeping through the night, my husband's sleep apnea is at bay. We're able to sleep at different heights and sleep well."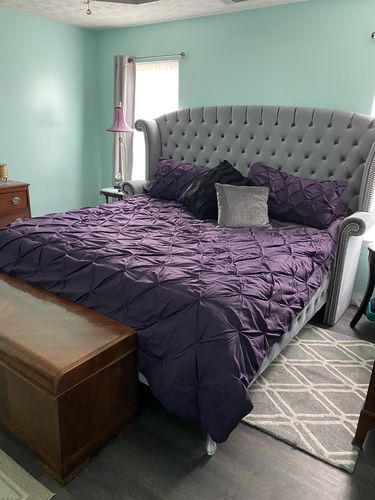 Julie G.

Verified buyer
"My husband and I are so happy with our new bed! It's wonderful to get up in the morning without back pain. I love that we each can adjust our own side of the bed separately. I was a little worried about buying a bed online but this a wonderful experience. I used the chat feature and got all my questions answered quickly and completely. Delivery was super fast and easy. I highly recommend this bed and this company."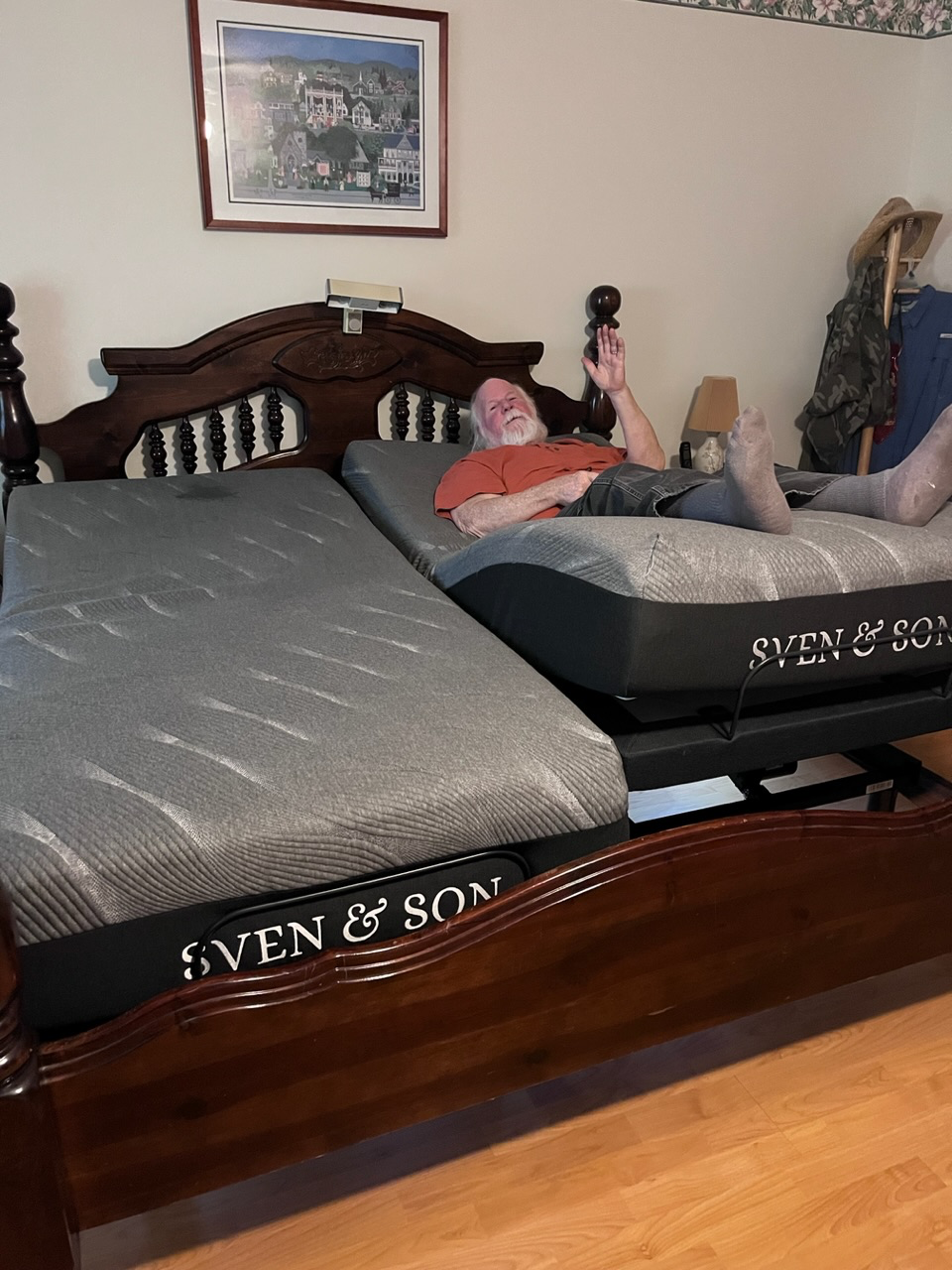 Toni L.

Verified buyer
"We bought a king size bed and worried about being able to use an adjustable bed frame . After researching we found Sven's bedframe , bought the split king and are very happy with the product , especially since it fit perfectly into our modern bedframe. My husband uses the anti snore position and I love the zero gravity after a long day standing on my legs. The motor is quiet. We are very happy so far."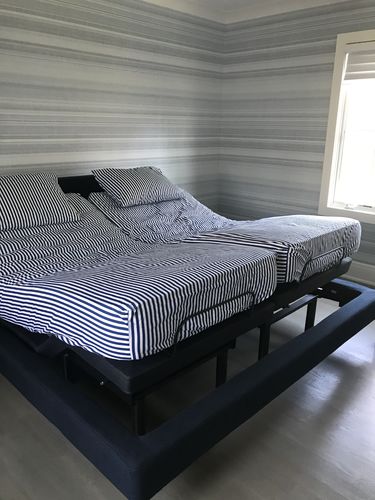 Jolanda Z.

Verified buyer
"WE LOVE IT..Tad too soft...but definitely doable.... love the massage.....We are gonna order a Queen for our guest room when we buy our new house...."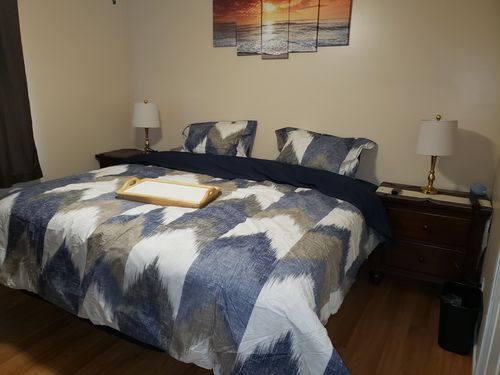 Sheryl S.

Verified buyer
"My wife and I have had the best sleep ever since we received the split king! Easy to set up and fits perfectly in our headboard and footboard."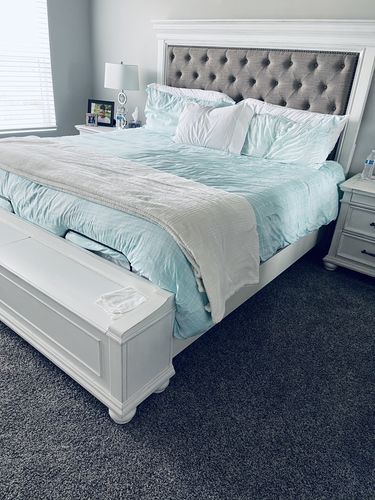 Chad S.

Verified buyer
Questions?
We've Got Answers
If you have further questions, please don't hesitate to reach out.
What's the difference between ordering here vs. Amazon?

Ordering on Amazon® gets you the same great product, shipped from the exact same company (Sleep Geekz® is our sister company specializing in great customer support). There's no difference in the product or service you'll receive.
What's the difference between in-home setup and curbside delivery?

Curbside Delivery is our free default shipping option. A large truck will deliver your goods curbside - you'll need to have a way to get it from your curb/driveway into your home from there. These are very heavy items, so if you don't have help we recommend upgrading to our in-home setup option (below).

In-Home Setup is a specialized delivery service that starts at $265. After choosing in-home setup delivery, the carrier company (this is a third party company we partner with) will call you and schedule a delivery time. After the appointment is made, two men in a truck will show up and bring your item(s) inside. They will carry it to the room of your choice. They will assemble the adjustable base(s) and take the mattress(es) out of the box for you. 

They will only take the trash that the adjustable bases and mattresses came in. They will not remove any old mattress or move it to another room.

In-home setup delivery is currently estimated to be around 2-4 weeks after purchase. Feel free to call us at (904) 474-9998 if you'd like a more accurate estimate for in-home setup delivery to your home.
I'm nervous about buying a mattress online...

We completely understand!

• This is a large, important purchase for our customers and we treat it as such

• We're committed to getting you the restful sleep you deserve

• We offer a 120-Night Sleep Guarantee to make sure you're 100% happy with the mattress you ordered

• Many of our happy customers felt this way too but left stellar reviews
What is your 120-Night Sleep Guarantee?

The 120-Night Sleep Guarantee is only available if you purchase the mattress only. Sven & Son® has your back for 120 nights of sleep. If you don't like it for any reason during those 120 nights (assuming you purchased only the mattress), we'll get you a different mattress so you can rest easy!

We can't offer the 120-Night Sleep Guarantee on bundle purchases because of the shipping costs and special bundle pricing, but if you're buying a bundle from us, rest easy. We stand behind our products with a free industry-leading warranty and always put our customers first. Our customer reviews here on our website as well as on Amazon speak for themselves - we take care of our customers.
How long does it take to ship my order?

If the item is in stock, it will ship within 1-2 business days.

Curbside delivery for our adjustable beds & mattresses will arrive 1-2 weeks after ordering. With curbside delivery, the freight carrier will call you and schedule a delivery appointment. They won't take the item inside the home. These are contracted carriers not directly affiliated with Sven & Son. They'll pull up to the curb, offload the goods on a pallet, deliver the goods, then leave. They will not bring it inside, so be sure to have help capable of lifting heavy goods OR consider the in-home setup delivery option.

In-home setup delivery will typically arrive around 3-4 weeks after purchase, depending on how remote your home is from major shipping hubs. Due to COVID-19 and industry demand, scheduling in-home setup delivery adds a couple of weeks onto the traditional free curbside delivery time of 1-2 weeks.
I'm worried about my item being damaged...

If the item is damaged, we will credit or replace it.

We recommend that no customer throws away their mattress until the delivery is complete and you're satisfied with your purchase. Please check for physical damage first upon arrival. All damages must be signed on the receipt that the item is damaged and must be refused back to the carrier for claims to be approved. If for any reason your item is dysfunctional, contact us and we'll make sure you're well taken care of so can get the sleep you deserve.
When will my order arrive?

Traditional curbside delivery (free option): 1-2 Weeks

In-home setup delivery ($265 option): 3-4 Weeks
Do you offer interest-free financing or 0% down payments?

Yes. Choose from Affirm®, ShopPay®, Klarna®, or Synchrony® to find the perfect payment plan for your needs. Learn more.
Where are your bases, bedding, and mattresses manufactured?

We strive to deliver premium quality products at industry-leading prices.

Mattresses: Made in the USA

Adjustable Bases: Designed in the USA, Assembled in Thailand

Sheets: Handcrafted in Italy
What are the differences between the 10", 12", and 14" mattresses?

All of our mattresses are made in the USA with premium CertiPur® certified foam. The size differences determine the comfort options:

10" = Firm
12" = Medium
14" = Medium-Soft
Is the headboard in the picture included?
What is your return policy?

At Sven & Son®, we decided to make our return policy simple, pain-free, clear, and concise. We understand that sometimes the wrong size or type of mattress is chosen or maybe a friend gave a recommendation that works perfectly for them but doesn't quite fit your needs. We are human too, we get it!

If you're not happy with your purchase, we will work with you to make sure that you are 100% satisfied and have no regrets. Simply contact a member of our 5-star rated customer service team and they are always happy to help. On mattresses purchased within a bundle, we will credit you the amount that was paid for the mattress towards the purchase of another mattress.

Our adjustable beds are backed by our industry-leading warranty. Should you need to return your adjustable base, you will be responsible for costs of return shipping and a 20% re-stocking fee. If you have trouble with your bed, simply give us a call so we can do our best to make sure you're 100% satisfied with your purchase.
Where is Sven & Son® located?

Our corporate offices and manufacturing facility are proudly located in sunny Jacksonville, Florida, USA.
Don't Miss A Thing...
Sleep tips, seasonal trends, new arrivals, exclusive offers, and more.